The SpeciaList
|
Food & Drink
(Image credit: SiliconValleyStock/Alamy)
From Tadich Grill to Comstock Saloon, famed mixologist Josh Harris shares five of his favourite bars inspired by the city's notorious Barbary Coast era.
S
San Francisco's Barbary Coast, a red-light district which lasted from the 1849 California Gold Rush until roughly the Roaring 1920s, was one of the most colourful and notorious neighbourhoods in American history. For much of the 19th and early 20th Centuries, it was populated by miners, sailors, criminals and a variety of other unsavoury characters who flocked to the city's bustling waterfront. The Barbary Coast became renowned for its saloons, dance halls, brothels and nightlife, and it set the stage for a cocktail revolution that swept across the country. Here, drinks weren't just viewed as libations, but instead acted as a form of entertainment, with bartenders held in high regard due to their skill and showmanship.
Today, the Barbary Coast's legacy can still be felt (and tasted) in many of San Francisco's best bars. This spirit of "Old" San Francisco remains especially alive in parts of the modern North Beach, Chinatown and Financial District neighbourhoods that once comprised it. Connected to this iconic period of history is a unique array of cocktails that earn awards and praise from imbibers around the world.
Josh Harris is the proprietor of Trick Dog, a James Beard Foundation Award-nominated bar that captures the spirit of the city's Barbary Coast days by infusing each craft cocktail with distinct flavours that echo the city's rich history. Here, he recommends his favourite cocktail bars around San Francisco.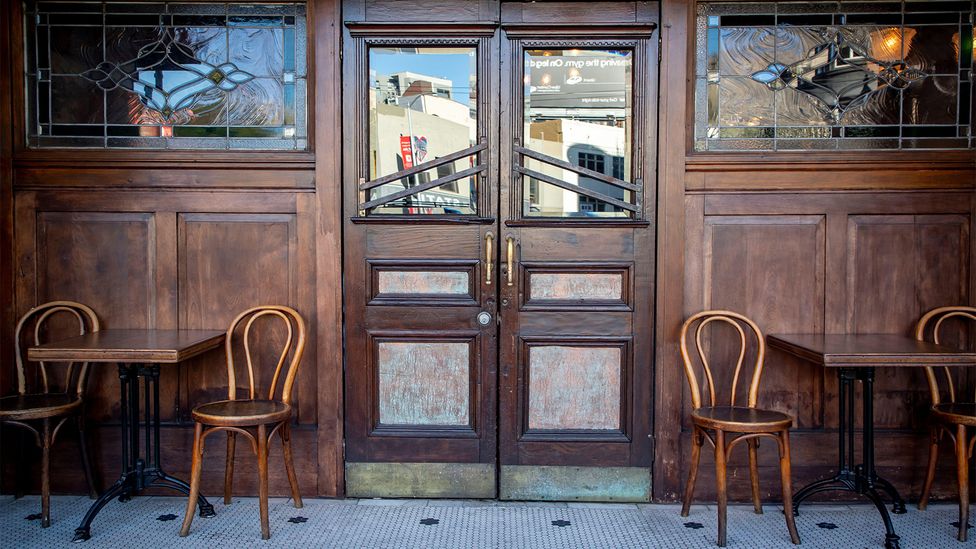 True to its name, Comstock Saloon's entrance looks like something from a Wild West film set (Credit: IMAGES@ARTIST-AT-LARGE/Alamy)
1. Best for restored splendour: Comstock Saloon
Harris says Comstock Saloon provides a captivating and authentic glimpse into San Francisco's resplendent Barbary Coast past. First opened in 1907, it's one of the few places that can truly claim to be reminiscent of the notorious era. Most recently restored to its former glory in 2010, the Comstock Saloon sits at the crossroads of North Beach, Chinatown, Financial District and Jackson Square. With its cosy booths and old mahogany bar, the influential establishment continues to stay true to the past while carving out a new identity of its own. 
One of their well-known favourites is the Sazerac, a combination of rye whiskey, bitters and absinthe. However, in addition to the classic cocktails and fine spirits, Harris recommends the saloon's signature Comstock burger and fresh oysters. You'll also find live jazz every night that they're open (from Tuesday through Saturday), bringing a lively atmosphere.
Website: www.comstocksaloon.com
Address: 155 Columbus Ave, San Francisco, CA 94133
Phone: +1 415-617-0071
Instagram: @comstocksaloon/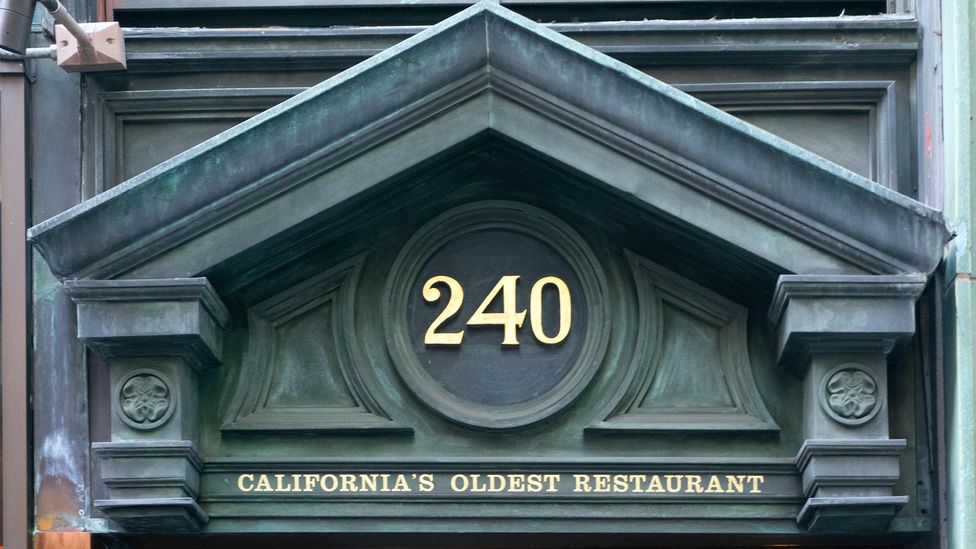 As it proudly proclaims over its door, Tadich Grill is California's oldest continuously run restaurant (Credit: Randy Duchaine/Alamy)
2. Best for 1800s history: Tadich Grill

For a taste of San Francisco's storied past, Harris says there's no better place to visit than the Tadich Grill in the heart of the Financial District. Located in the Barbary Coast area since 1849, this beloved seafood eatery is the oldest continuously run restaurant in California, and the third-oldest in the United States.
From the long bar (one side is for standing-only drinks; seating is further down), enjoy classic low-proof cocktails or Scotch whisky. According to Harris, the Tadich Grill serves one of the best dry martinis around town, a time-honoured mix of gin and vermouth. Tadich Grill is especially known for its fresh seafood, and the cioppino, (a seafood soup created in San Francisco) and clam chowder, are two standout dishes on the menu. They only take bookings for half the restaurant, so it's first-come, first-served for the remaining seats, which always go fast.
Website: www.tadichgrillsf.com
Address: 240 California St, San Francisco, CA 94111
Phone: +1 415-391-1849
Instagram: @tadichgrill/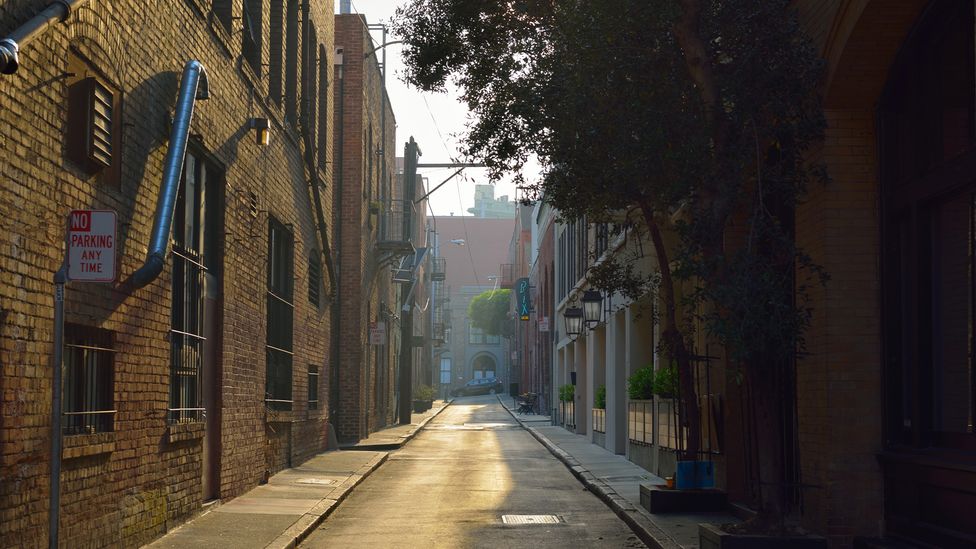 To find Bix, wander through Gold Street (Credit: Stars and Stripes/Alamy)
3. Best hidden haunt: Bix
Bix pays homage to San Francisco's Barbary Coast era with a swanky 1930s ambiance. To find it, wander through Jackson Square and turn down Gold Street, seemingly snapping back 100 years in time. Inside, you'll come face to face with grand decor reminiscent of the past, like Art Deco lamps, as well as live jazz music floating across the tables every night. The restaurant strikes a balance between speakeasy and elegant saloon, offering modern American cuisine across the split-level dining room. One of Harris' favourite dishes is potato pillows with caviar.
White-jacketed bartenders stand behind a gently curved bar, mixing some of the better cocktails in town. Since assisting the martini revival in the late 1980s, Bix has experimented with classic cocktails and a few signature concoctions. Harris loves the BIX Sidecar, with cognac, dry curacao and lime juice, or the BIX Boulevardier of bourbon, carpano antica and St George Bruto Americano. Whether dining for a special occasion or just enjoying nibbles and Negronis, Harris maintains this is one spot where guests will find themselves transported back in time.
Website: www.bixrestaurant.com
Address: 56 Gold St, San Francisco, CA 94133
Phone: +1 415-433-6300
Instagram: @bixsf/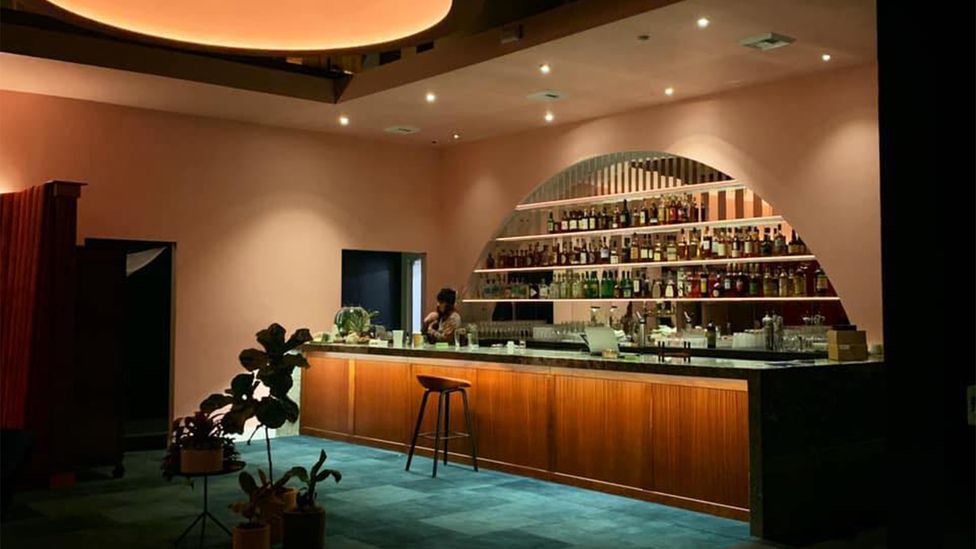 Moongate Lounge is a relative newcomer inspired by the Barbary Coast (Credit: Moongate Lounge)
4. Best modern ode to the past: Moongate Lounge
Step into the illustrious Moongate Lounge, an ode to San Francisco's Barbary Coast in the Chinatown neighbourhood. Since opening in 2016, "it's easily become one of the most captivating bars to go for a drink," Harris said. Be sure to admire the velvet, high-walled booths, marble tabletops and restored Chinese murals.
Explore the area
Walking the Barbary Coast Trail is a great way to get to get to know the area and learn about its history. The trail features 180 bronze medallions and arrows guiding visitors through an era of gold rushers, railroad barons and visionaries. 
Harris says one of the biggest draws here is Chef Brandon Jew's exquisite food programme from Mister Jiu's downstairs. Here, you'll find simpler-but-still-delicious versions of the Chinese-Californian dishes on offer at Moongate, like oysters with hawthorn jelly and tea-smoked olives. Still, most people come to Moongate Lounge for their rotating cocktail menu, which is inspired by the Chinese Lunar Calendar. Of the six house cocktails, Deimos (a mix of bourbon, oolong, green walnut and brined black sesame honey) or Ariel (vodka, li hing mui, almond milk, pomelo and osmanthus) are just some of the interesting concoctions regularly offered. 
Website: www.moongatelounge.com
Address: 28 Waverly Pl, San Francisco, CA 94108
Phone: +1 415-857-9688
Instagram: @moongatelounge/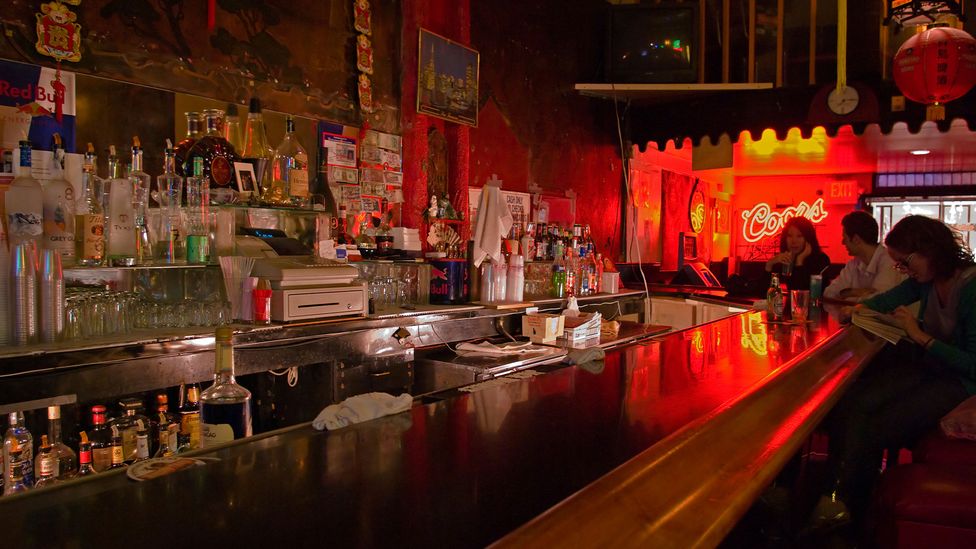 If there's such a thing as a Barbary Coast-era dive, Li Po is it (Credit: Emily Riddell/Alamy)
5. Best Barbary-inspired dive bar: Li Po Cocktail Lounge
Li Po is a one-of-a-kind homage to "San Francisco's Barbary Coast Chinatown nightlife scene from back in the day", Harris said. Very little has changed here since the 1930s, despite many of the neighbourhood's original clubs and lounges closing down during the 1960s. The unpretentious dive bar is set behind large red double doors on Grant Avenue, marked by an unmissable neon sign it that has become one of the area's landmarks.
Barbary 101
The term "Barbary Coast' comes from North Africa's Barbary Coast, where local pirates launched raids on nearby coastal towns and ships.
Inside, you'll find distinctly unique interior, with wraparound bar, red leather booths, hanging Chinese lanterns and a golden Buddha statue behind the bar. Strangers become friendly neighbours over flavourful Mai Tais, a house specialty, crafted from ingredients inspired by local tradition not found elsewhere. The no-nonsense atmosphere – and what Harris calls "lethal mai tais" – charmed even the late Anthony Bourdain, who featured Li Po in the San Francisco episode of The Layover.
Website: https://lipolounge.com/
Address: 916 Grant Ave, San Francisco, CA 94108
Phone: +1 415-982-0072
BBC Travel's The SpeciaList is a series of guides to popular and emerging destinations around the world, as seen through the eyes of local experts and tastemakers.
—
Join more than three million BBC Travel fans by liking us on Facebook, or follow us on Twitter and Instagram.
If you liked this story, sign up for The Essential List newsletter – a handpicked selection of features, videos and can't-miss news delivered to your inbox every Friday.
;
#tour #San #Franciscos #cocktail #bars #mixologist #Josh #Harris