Aston Villa's women's team are set to wear the club's sweat-heavy shirts for Sunday's Women's Super League opener against Manchester United.
Villa's male players have criticised the shirts, saying they are uncomfortable because they are retaining too much sweat.
BBC Sport understands Villa had hoped to resolve the issue by this weekend but that has not been possible, and talks with kit manufacturer Castore remain at a delicate stage.
The new claret and blue home shirts are the worst affected, noticeably changing colour in games as they retain moisture and cling tightly to the chest.
The Telegraph reported Villa and Castore are discussing an early termination of their multi-year contract, although BBC Sport understands players will remain in a Castore kit for the rest of the season, with the club seeking to change the material, not the shirt design.
Villa manager Carla Ward said her players have "similar concerns" about the shirts as the men's team, but remain focused on Sunday's game, which is live on BBC Two and kicks off at 12:30 BST.
Ward said: "I think it was highlighted early in our pre-season from the men's side and backed up by the women's."
"As far as I'm concerned it's for the club and Castore to deal with," Ward added. "My focus has to be the weekend."
Earlier this week football commentator Jacqui Oatley said Villa's women's side were "dreading" wearing the "clingy" shirts.
"They've got four TV games coming up," said Oatley. "Normally they'd absolutely relish those games and look forward to them. But they're actually dreading it because they're really conscious about how they're going to look in this wet, clingy kit for obvious reasons."
Castore have not commented to BBC Sport but told The Daily Telegraph: "There has been some media speculation about a potential issue in the football kit supplied by Castore to Aston Villa Football Club.
"We are working closely in collaboration with the club to address this issue as quickly as possible to meet the standards we expect. We would like to thank the club for their patience and support to date.
"As a proud new British brand, we always hold ourselves to the highest of standards and strive to do everything we can to constantly improve the performance of our products. This means addressing any customer concerns with promptness and humility."
Castore, founded by Wirral-born brothers Tom and Phil Beahon, also provide sportswear for Andy Murray, other football clubs including Newcastle United, Wolverhampton Wanderers and Rangers, as well as the Red Bull and McLaren Formula 1 teams.
Newcastle issued a statement praising the company's products following a newspaper report suggesting the club was unhappy with the quality of them.
"The club has found the quality of Castore products to be extremely high," said the Tyneside club.
"We are proud to be wearing Castore's well-designed, innovative training and match kits in the Premier League, Champions League and FA Women's National League, and are appreciative of Castore's support and contribution to the club's trajectory over the last three seasons."
Ward said: "My focus is making sure the players are focused on the weekend and the one thing I will say is the club have been absolutely superb in these last few days with constant communication with 'how can we help the players, what's going to help them, what will make them feel better?'.
"There's a genuine care from the football club. The players feel that, we feel that, but our focus solely now is on Manchester United."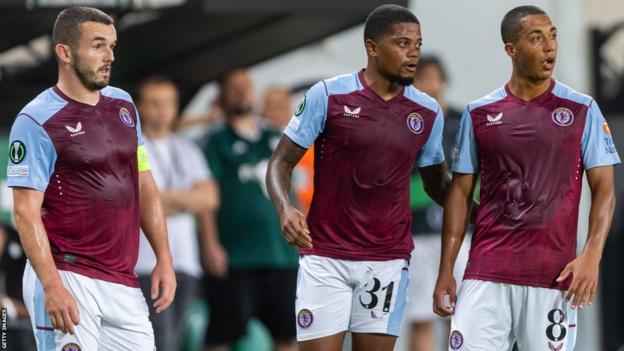 'Most Villa fans recognised this was an issue in pre-season'
Rob Warner is a former head of kit design at Umbro and Puma and is bemused at how the situation with Villa's kit has reached the current situation.
"I don't know if you really can explain it," he told BBC Radio 5 Live.
"It's a difficult one because normally there would be so many checks and balances in place to make sure everything is appropriate for elite athletes, that you just wouldn't even countenance the idea of this happening on the field of play – especially at Premier League level.
"In terms of a route forward for the club, it's hard to really say. I would expect that the brand will be looking to get some shirts manufactured with different material, maybe a different factory all together but obviously, there's a long turnaround time on that.
"I think most Villa fans recognised this was an issue in pre-season but that was out in the United States where it was really hot, whereas now, if [Castore] have left it this late to try and rectify the issue, then they are potentially looking at six to eight weeks before anything major can really be implemented."
John Devlin, an author on the history of football kits, says Villa are not alone in the issues they are encountering.
"Funnily enough, this has happened over in Germany with Bayern Munich and their Adidas kits," he said.
"They have had a couple of instances, one fairly recently, where they've struggled with the sweat wicking-properties of the shirt, but generally it has happened at international matches, especially in World Cups where they are dealing with extreme temperatures.
"It's incredibly rare to happen in the British game."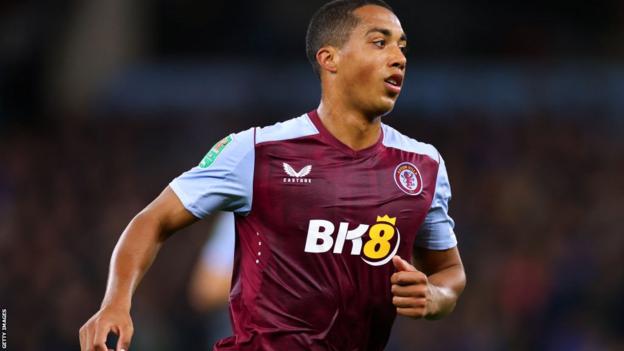 #Villa #women #wear #criticised #sweatheavy #shirts