1980 Olympic Games boxing medallist Hugh Russell has died at the age of 63 following an illness.
The Belfast man went on to win British bantamweight and flyweight titles after turning professional following his Olympic success for Ireland in Moscow.
Going into the Moscow Games, Ireland had not won an Olympic medal since Jim McCourt's 1964 boxing bronze in Tokyo.
Russell earned one of two Irish medals in Moscow with sailors David Wilkins and Jamie Wilkinson winning a silver.
After retiring from professional boxing in 1985, Russell forged a highly successful career at a photographer with the Irish News.
Irish News sports editor Paul McConville said he was "absolutely devastated by the loss of colleague Hugh Russell".
"Champion boxer and top class photographer but a friend and colleague who was always on hand to lend some sage advice or lighten the mood with a wise crack and that cheeky grin. RIP Champ," he added.
Russell bought first camera at Moscow Olympics
Speaking in the Legends of Irish Boxing book written by Belfast author Barry Flynn, Russell revealed that he had bought his first camera at the end of the Moscow Olympics with spare Russian roubles that he had accumulated.
"The thing about Russia back then was that everybody changed their money on the street as the rate was better than anywhere else," said the New Lodge man.
"Being in the Olympic village made it hard to spend any money as everything was free anyway to the athletes.
"At the end of the Games, I had an awful lot of spare money and you could not bring Russian money back with you. So I spied this large Zenith camera and bought it and that started me on the photography."
Russell also recalled being told that his fights in Moscow had led to lulls in rioting that had been breaking out in his home district that summer amid the ongoing Northern Ireland Troubles.
"As soon as my fights came on the television, the streets cleared for 15 minutes and afterwards the rioting started again."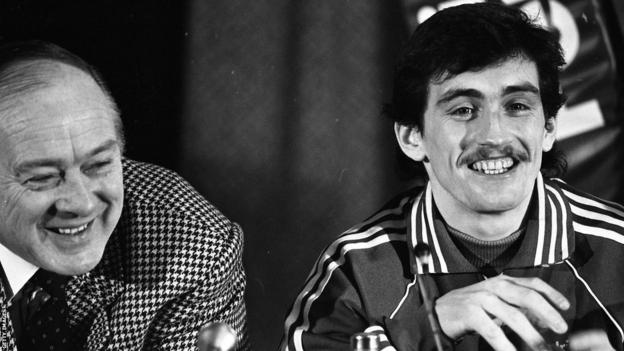 Russell went into Moscow Games as a 20-year-old having won a flyweight bronze for Northern Ireland at the 1978 Commonwealth Games in Edmonton.
Barry McGuigan was Ireland's big boxing hope going into the 1980 Games but exited early as Russell secured his bronze medal by edging a 3-2 decision over North Korea's Ryon Sik Yo after earlier unanimous decisions over Samir Khenyab of Iraq and Emmanuel Mlundwa of Tanzania.
Russell lost his semi-final against Bulgaria's eventual gold medallist Petar Lessov but he had already done enough to secure an Olympic medal which he later admitted "changed my life".
His Olympic success led to him signing a professional deal with the management stable of legendary Belfast-based promoter Barney Eastwood, who had also snapped up McGuigan following the Moscow Games.
After making his professional debut in December 1981, Russell won his first eight professional contests before being involved in one of his two epic bouts with fellow Belfast man and Commonwealth Games medallist Davy Larmour.
In their first bout, Russell edged a narrow decision to land the Irish bantamweight title in a fight that had also served as an eliminator for the British title.
Larmour avenged earlier defeat by Russell
After earning two more victories, Russell secured the British title in his 12th professional contest at a raucous Ulster Hall in January 1983 after John Feeney was disqualified following the 12th round for persistent misuse of his head.
There was also an historical element to the bout as it was the final time a British title bout was scheduled to go 15 rounds even though in the event, a halt was called after the 12th because of Feeney's transgressions.
In what now seems rather extraordinary, Russell lost his British bantamweight title less than six weeks later as he was beaten by Larmour in another classic contest, with the New Lodge man's trip to the canvas in the fifth round a crucial moment in the bout.
After that defeat, Russell made the decision to drop down to the flyweight division where he had had his Olympic success and it proved an inspired move as he secured another British title 10 months later by stopping champion Kelvin Smart in seven rounds at the Kings Hall.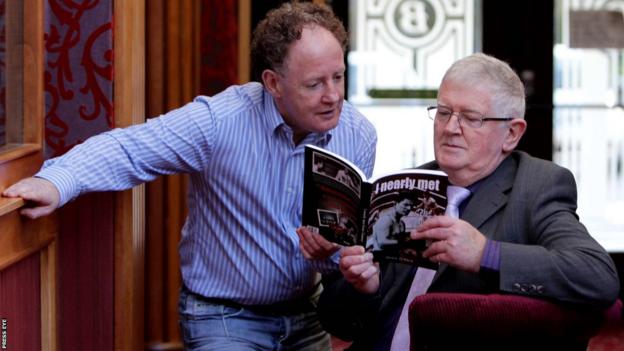 Russell suffered his second professional defeat three months later when he was stopped by American Jose Torres but two more successful British title defences – including a last-round stoppage win over Charlie Brown in his final career bout in February 1985 – saw him winning a prestigious Lonsdale Belt for making three successful British title defences.
Some nine months later, Russell was among the press photographers on duty at Hillsborough Castle in county Down as the British and Irish Prime Ministers Margaret Thatcher and Garrett Fitzgerald signed the Anglo-Irish Agreement.
Russell's new career – which he adored and earned him several awards – saw him help document numerous momentous events including the releases of the Guildford Four and Birmingham Six.
His talent in sports photograph extended far beyond his own sport of boxing while his natural charm and demeanour made him a very popular member of the media in Belfast.
Russell's continuing links with boxing were also maintained by him working a professional referee for the British Boxing Board of Control.
#Irish #Olympic #boxing #medallist #Russell #dies