When you prepare to face a team who beat you 19-0 the previous week, the aim is surely to limit the damage this time round. What you don't want is to lose 51-0.
However, that was the fate suffered by St Machar Thistle AFC in a first-round Scottish Amateur Cup tie in Aberdeenshire on Saturday.
Facing AC Mill Inn Academy in wet and windy conditions in Stonehaven, St Machar started with just eight players after family, work and study commitments limited their options.
The side, who formed two months ago and play in the Aberdeenshire Amateur Football Association Division 2 East, thought they had 10 men but were told two trialists weren't eligible shortly before the game started.
"Any other team I think they'd walk," said manager Cameron Ashwood. "We just sat down and said, 'let's try enjoy ourselves here'.
"They were loving it. There were smiles all around and that's all I can ask for before we get to where we want to be.
"Results like this do happen, there's no need to shame away from it. Every club will have moments like this when you're starting out.
"We're not ashamed of it one bit. We are owning it."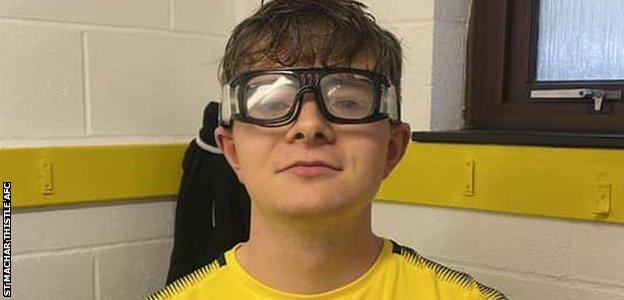 St Machar captain Eoin Devlin, who is usually an outfield player, had to start the game in goal and, by half-time, it is thought it was 25-0.
"I went around the boys to ask who was going to do it," Ashwood said of his goalkeeping issue.
"It wasn't a case of me having to pick him, he put his hand straight up and said he'd go in goal. It was very brave of him."
The huge defeat won't put the players off and the manager expects to see them back in training this week.
"I'm letting some lads play football, get out the house for a bit to talk with people, interact, it makes it all worth it," Ashwood said.
"The majority of the feedback I've been getting is positive. It's also a lesson to ourselves. We're an example of when it goes wrong, this is what happens."
#Aberdeenshire #amateur #side #owning #cup #defeat