The UK & Ireland are the only bidders left for Euro 2028 after Turkey withdrew their application.
On October 10, UEFA will award the hosting of two European Championships, the 2028 and 2032 editions.
UEFA confirmed Turkey can jointly bid with Italy unopposed for 2032 and therefore they have pulled out of the running for 2028.
UK & Ireland host stadiums:
Wembley Stadium (London)
Principality Stadium (Cardiff)
Tottenham Hotspur Stadium (London)
Etihad Stadium (Manchester)
Everton Stadium (Liverpool)
St James' Park (Newcastle)
Villa Park (Birmingham)
Hampden Park (Glasgow)
Aviva Stadium (Dublin)
Casement Park (Belfast)
A UEFA statement confirmed: "Further to the announcement on July 28 which revealed the desire of the Italian and Turkish FAs to submit a joint bid to stage Euro 2032, the UEFA administration has today written to both associations to confirm that their joint bid has been duly received and will go forward for assessment and consideration by the UEFA Executive Committee.
"As indicated by the FA of Turkiye with its submission of the request for a joint bid, their bid to stage Euro 2028 is consequently withdrawn.
"The award of both tournaments still requires the approval of the Executive Committee at its meeting in Nyon on 10 October. The presentations at that meeting will be an important part of the process which will take due consideration of the content of the bid submissions before reaching a decision."
How can all host nations qualify for Euro 2028?
Some high-ranking UEFA officials have concerns over a suggestion that England, Ireland, Scotland, Wales or Northern Ireland might still be allowed to play in Euro 2028 even if they have been knocked out in qualifying.
Sky Sports News has been told UEFA is sticking to its rules which say no more than two host nations can be granted automatic qualifying spots for the tournament finals.
Since it would be impossible for the four home nations and Ireland to agree on which of them should be given special treatment, all five will enter the competition in the qualifying rounds.
What happens after that – and for any of the five countries which fails to qualify – is the key to ongoing discussions.
It remains possible that the two "automatic" qualification places are held in reserve, and could be used by any of the five countries who fail to qualify in the usual way.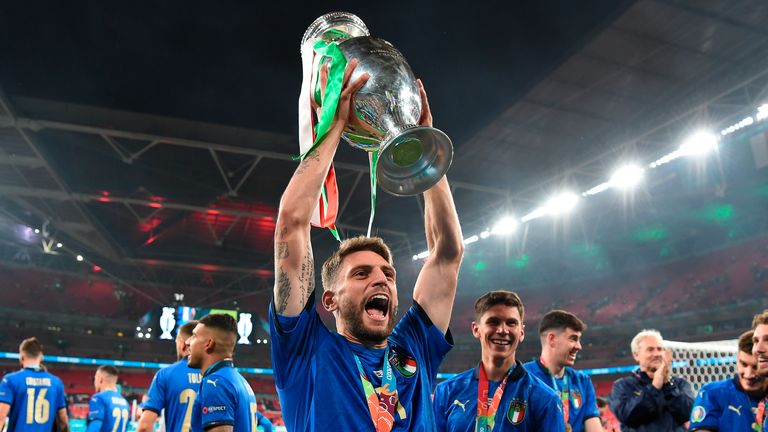 However, Sky Sports News been told that many within UEFA are "uncomfortable" with the idea of countries who have failed in qualifying being handed a spot in the finals regardless.
If, for example, three of the five countries failed to qualify, it would be equally messy to decide which two of those three would progress to the tournament.
One possibility is that the best-performing two countries in qualifying would be granted a "wild card" for the finals.
Where will the games be played?
The UK & Ireland submission is proposing to use 10 stadia in 2028. There's no Old Trafford and no Croke Park in Dublin in the bid. England has unsurprisingly the largest number of stadiums – it's the biggest country and hosts the Premier League where the facilities are the envy of many throughout the world.
In addition to Wembley, stadiums used by Tottenham, Aston Villa, Newcastle United, Manchester City and Everton represent England. In Wales, the 74,500-capacity Principality Stadium is nominated ahead of the Cardiff City Stadium.
Scotland has Hampden Park, and Ireland has the Aviva Stadium in Dublin. In Northern Ireland, a redevelopment of Casement Park, which is a stadium used by the Gaelic Athletic Association, is still a cause for concern due to funding issues and a lack of a working government executive at Stormont.
Noel Mooney, chief executive of the Football Association of Wales (FAW) and a former UEFA executive, said: "It's very collegiate. We've put forward what we all want. It's the bid that's going forward… For us, we want to have group matches and a couple of matches after that.
"I think we'd be looking for four, five, or six matches. We'd be really happy and I think some of the other associations would be happy as well."
Who would host the final?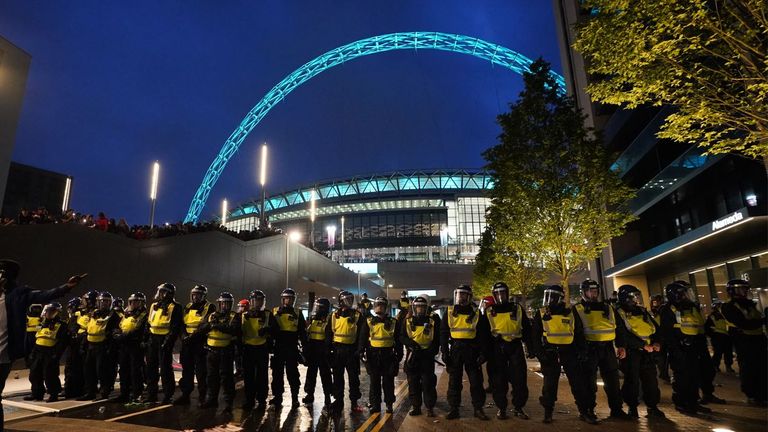 Wembley is the largest stadium but it was beset by problems when hosting the Euro 2020 final between England and Italy.
Even though several of the submitted stadia will hold in excess of 60,000 fans come 2028, Mooney believes Wembley should be the focal point for the conclusion of Euro 2028.
"The UK is at the forefront of security and intelligence. The final of Euro 2020 was a difficult day on the security front for so many – it was a shock because they're so good at managing these events," he said.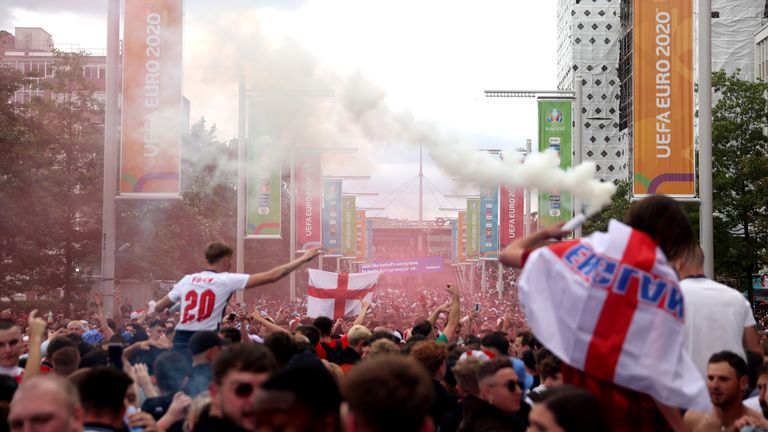 "I would take this as a one-off in this part of the world and knowing what has been done with the report – which was generated and has been actioned – all those things are going in the right direction. You can never do enough on security and I do know we will have a fantastic security proposal.
"You look at a tournament to get as many people to the games. It's about getting access to this really glorious special tournament, that's the principle we work on and based on that, Wembley is 90,000 people.
"Why would you deny tens of thousands of people going to a Euros final because of politics? I think we should try and get as many people as possible to the games."
#Euro #Ireland #bid #left #European #Championships #Turkey #withdraw